In today's world, mobile phone users are increasing day by day. By using a mobile phone, people can easily access and purchase products online according to their desire. Nowadays, people can simply find anything by using their smartphone with an internet connection. All it's just happened for the sake of mobile apps, which made our life easier and made mobility into a digital reality. Mobile applications are essential, which helps to build your business online and expand the business-online visibility. Mobile apps users are gradually increasing, which has now reached a massive approximately 8.93 million. Almost every smartphone user uses applications for their betterment. Another thing is that almost 8 out of 10 smartphones or devices are powered by Android, and in the technological era, people find it more convenient to use.
What is an Android App?
An android app is an application powered by android. An android app is a software application, which can simply run on the android device or emulator. Android platform is designed for mobile devices, like, the smartphone or a tablet PC running on the Android OS. However, the android application term is also known as an APK file, which stands for Android package. These types of files are zip archives, where it comes with app code, resources, and meta information.
The Android app development Platform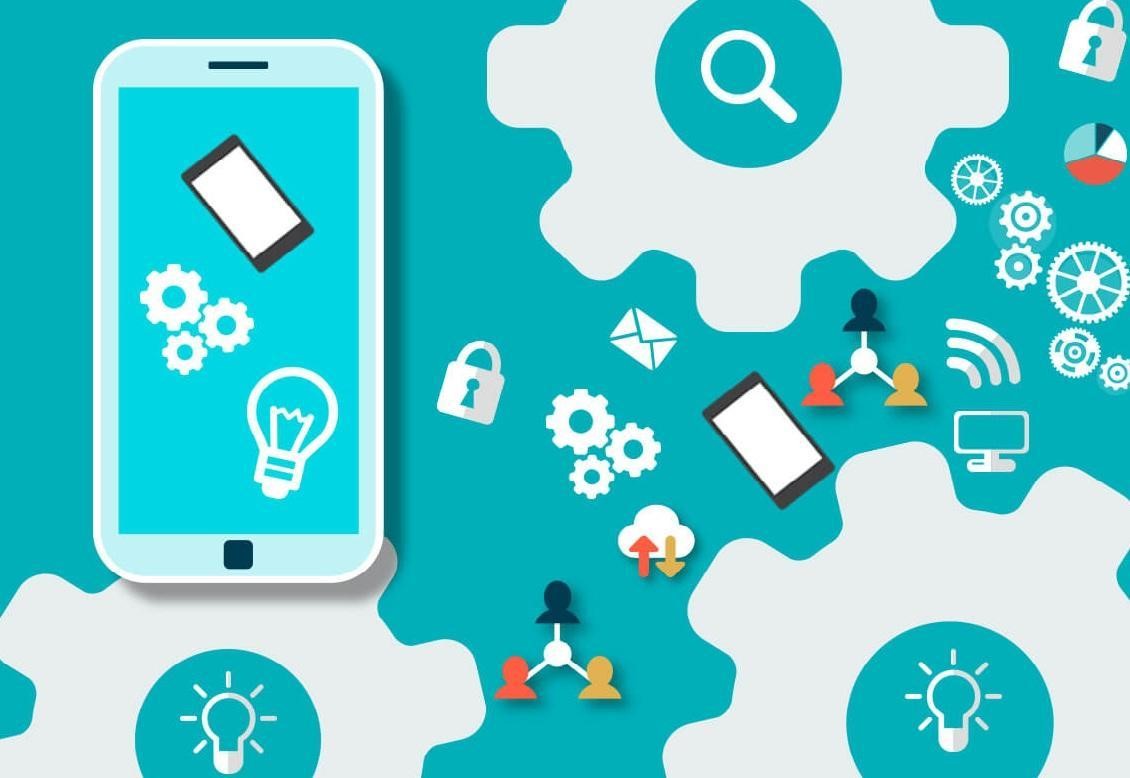 For a better working experience, the android app development platform provides the best solution in every sector. This type of platform is open-source and royalty-free. That means the android platform is preferable to use, which is not restricted to just the Android Market. This development platform gives the developers a lot of freedom and liberty, which helps them to become experimental and innovative. Android apps are easy to use and can be installed from third-party sources too. And that further extends the potential of Android application development. There are so many reasons and beneficial sides why enterprises and growing businesses stick with an Android App development company. Some of the significant factors are below;
Android comes with Easier and flexible app acceptance process rather than other platforms.

It comes with an economical publishing fee to publish apps.

That Comes with a larger audience, including a wider user pool.

The technology adoption, which comes with a robust, tested, and scalable programming language.
How Much Does it Cost to Develop an Android App?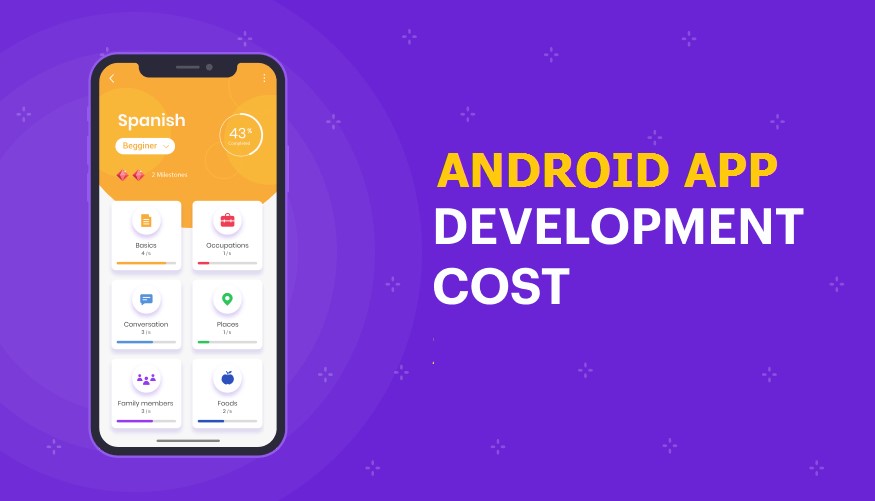 The first question of a business owner is how much it will cost to create a mobile. There are several kinds of terms and various factors affecting the cost of Android app development. Selecting the price or getting close to the budget, there are two primary factors, and these need to be considered for getting a quick estimate.
The two factors are similar 1. Development Time and 2. Hourly Rate.
The Android app development cost and factors
It is essential to evaluate the cost before developing an android app. There are multiple factors to consider before planning for an android app development budget.
These are:
App UI and UX design

App size

Online VS Offline

Number of Features

Complexity of Features

Type of App

API Integrations

App Development Stages

App Categories

Region of Development
App UI and UX design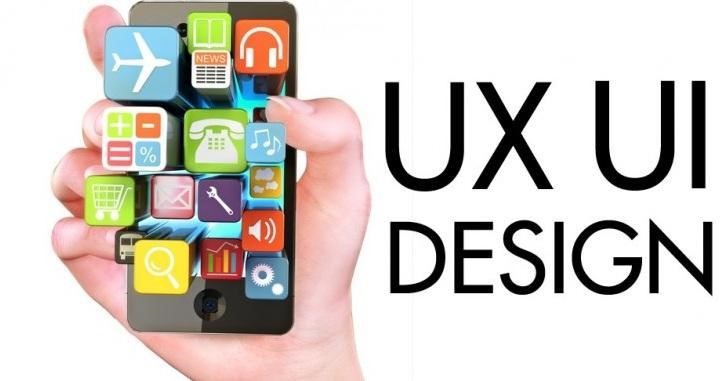 Apps UI and UX are important factors in the app development industry. It is negotiable to choose a flexible UI & access native features. For a better-using process, both the UI and UX are essential to apps for mobile, web, and desktop from a single codebase.
App Size
App size is a significant factor because it is directly going to affect the Android app development cost. The larger android app development projects required more resources to go into building them and maintaining them. It measures three sizes in the Android app category, and these are small, medium, and enterprise.
Small: It comes with 5-key feature pages, including static content, login, and sign-up pages. And the approximate cost is $4000 – $10,000 in international standards.

Medium: That includes 7 to 10 key-feature pages with static content, login, and sign-up pages, and can cost $10,000 – $50,000 by maintaining the international standard.

Enterprise: It can be included with 12 to 18 key feature pages, including static content, login, sign-up pages, and costs up to $50,000.
Online VS Offline
You can create both offline and online android apps for your betterment. Online android apps creation requires more development time and effort. Also, it produces more high-priced Android app development costs. Besides, you can simply create an offline android app, which is cheaper and quicker to develop.
An online app provides real-time data and content updating, higher flexibility, and various transactions online. On the contrary, an offline app is preferable for quicker data presence, continuous operation without the internet, and simpler to gain customer loyalty.
Number of Features
Before preparing any Android app project cost, you need to list down all the features you expect your Android app to have. It provides the best solution in overall app development, including a better way to ensure app success in the longer run.
Complexity of Features
As the key features of an app directly affect the development cost. Similarly, the complexity of features is essential to evaluate the costs to know the exact price of android app development. The three complexity of features are basic software development cost in a single platform, basic app development cost in multi-platform, and complex app development cost. The costs may vary similarly, depending on the features $60k, $150k, and more than $300k.
Type of App
The type of app also impacted the android development cost regarding your android platform selection. There are three types of android platforms to go with, and these are Native, Cross-Platform, Progressive Web Apps (PWA).
API Integrations
API integration is a messenger, which builds seamless connectivity for organizations to automate different business processes. This method also helps two or more apps connect via their APIS, and that enables them to exchange data comfortably. While creating any android app, it provides many possible ways and user cases. Also, you would need to establish several API Integrations for adding various features to your app. The APIs are payments API integrations and third-party API integrations.
App Development Stages
There are several types of steps to follow to get a properly functional, usable, and appealing app on the Play Store. All the processes are below;
Strategy


UI/UX Design -Wireframing (Style Guide Decide, Mock-ups, and prototype)

Mobile App Development -Backend Development

Testing UX Testing (Functional Testing, Performance Testing, Security Testing, and Platform, and Device Testing)

Deployment and Support
App Categories
App categories are essential to know to get a better idea of your Android app development cost. Different apps come with different aspects, and they serve various purposes in the daily lives of users. For example, lifestyle apps are less likely to be used, whereas gaming apps require a higher level of coding and skillset from the developers as opposed to the regular apps. Android apps costs vary, and their categories play a vital role in identifying the exact price.
Region of Development
Location is the biggest factor to consider to know the cost when getting your Android app development project started. Generally, different locations across the globe have diverse average Android app development costs. It also depends on the requirements as per the average pay scale and skill set of their developers. It provides efficient solutions and cost-effective solutions, including a good range of prices with a perfect Android app that fits your budget. Here is the hourly cost for the top countries for Android app development projects.
USA Hourly Rate - $100-$150/hr

Australia Hourly Rate - $200/hr

Ukraine Hourly Rate - $60/hr

Russia Hourly Rate - $60/hr

India Hourly Rate - $18-$40/hr
Final Thoughts
Creating apps or business applications for android comes with an estimated development cost. Before selecting the development costs, you need to know the development team location and app complexity; because both of these have a great impact on an overall development cost. Also, the Android platforms have a high adoption rate for developing apps with the infrastructure and third-party API integration. I hope you find this guide well, including the informed possible information for your android app development cost. Lastly, the android app development is highly beneficial for your business, which comes with the most control developing process and effective cost.