The demand for using mobile apps is getting double in size every day. The future projection is $101 billion, and it is a clear reflection of how the mobile application market is growing. iPhone apps come with a central focus among mobile users. These types of apps are excellent and come with the best possibility for generating high-quality revenue for businesses. However, iOS apps development is essential to stay in the race of the competitive market. In this highly volatile market, you can not imagine the establishment of a business or organization without an app. From startups to small businesses, their quick investment of return relies on iOS Application Development. The creation of mobile apps is negotiable to ensure the success of a company or organization. Also, it helps to take the company to enterprise to the next level of success comfortably. Whenever it comes to developing software for businesses or organizations, there are two major platforms for developing apps, and several business apps are Android and iOS. There is also a high demand for specific iPhone apps, and there is a neck-to-neck competition between iOS apps development and android apps development.
In this comprehensive guide, we are going to describe the benefits of iOS app development. These beneficial sides of iOS apps will help you to know why it is essential to have an app in the Apple App Store.
What is iOS App Development?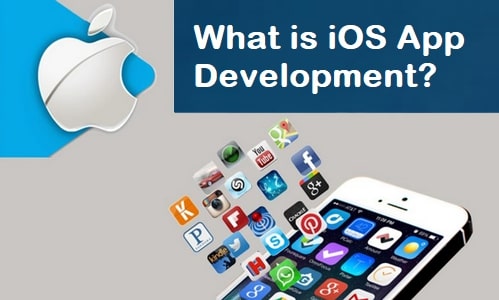 iOS apps development is the process of building apps for Apple hardware by using the iOS platform. iOS apps are preferable for Apple devices like iPhone, iPad, smart Apple TV, Apple Watch, and so on. In other words, Developing iOS apps by using the iOS operating system is the method of iOS app development. While developing the iOS apps, these are well-written in Swift programming languages or Objective-C. Then, the app is deployed to the Apple App Store for users to download. There are a large number of custom app development platforms are available in the market for building iOS apps. But the software engineers mainly use Objective-C and Swift to build iOS apps. The iOS development platform is used exclusively on Apple hardware, where Swift, Objective-C, and several languages are available to build iPhone mobile apps conveniently.
Why Do Enterprises & Businesses Need an iOS App?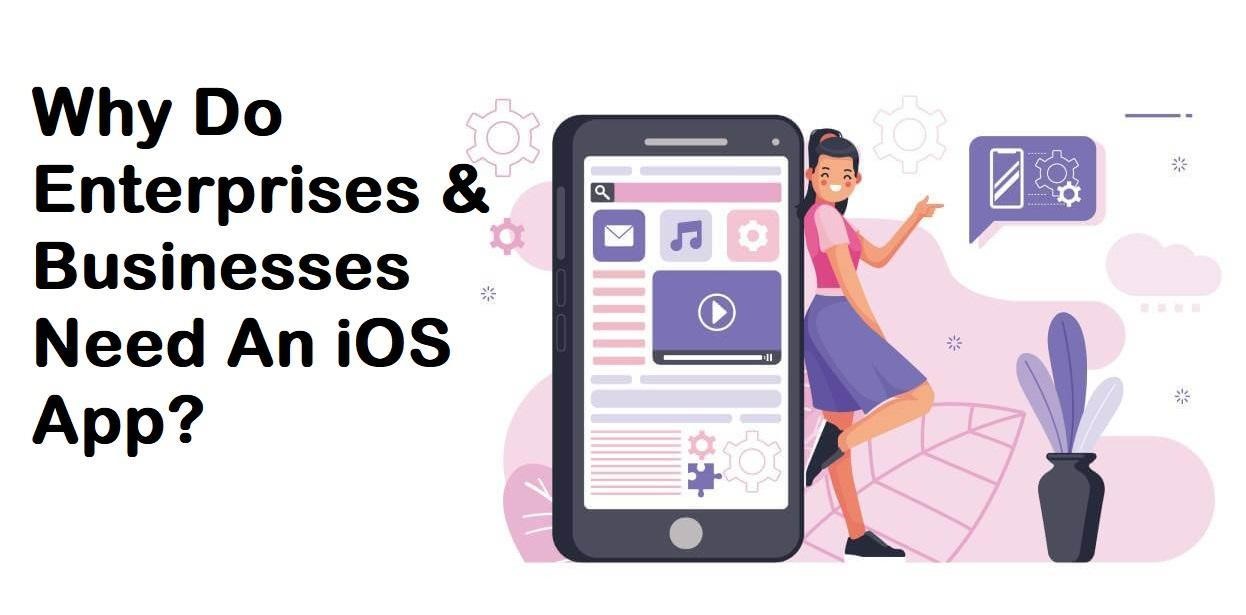 Mobile apps help businesses and organizations to expand their services gradually. Also, having an app to the company offers more value to customers and enhances the brand value by solving several problems. Mobile apps also provide convenient ROI to the business and help in boosting profit levels. iPhone apps are also famous as Android apps, which are excellent and present excellent numbers and statistics. Apple apps are convenient to use and provide consistent performance. The outstanding performance of the iOS apps has become the hallmark for driving the iPhone to push among users worldwide. Ultimately, the iOS mobile apps help every business and organization to expand their service conveniently. Most people are comfortable with smartphones rather than computers or other technological devices. Additionally, iOS mobile apps increase the brand value of enterprises and help them to become successful.
Benefits of iOS App Development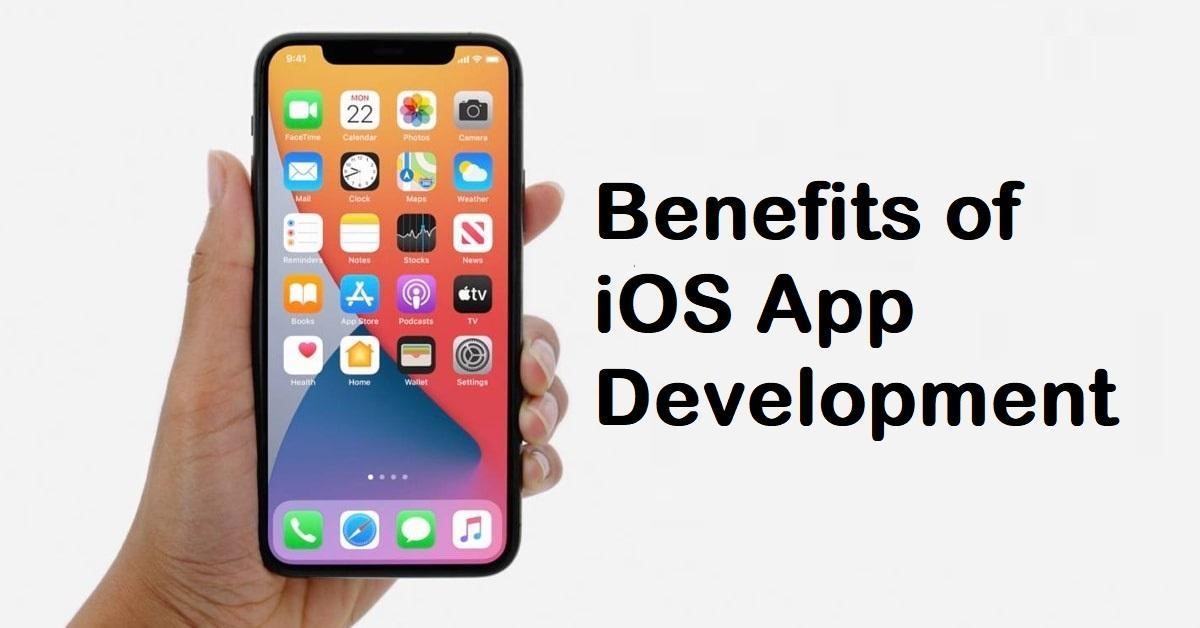 The iOS apps development comes with numerous benefits in driving more significant business growth and generating revenue. These types of apps come with the best value and create fantastic opportunities for businesses. Here, you will find the beneficial sides of the iOS app development process, and it will help you realize the importance of iOS apps in a company or organization.
However, the beneficial sides of iOS apps development are;
High-Security Standards

Best User Experience

High-Quality Standards

Cost-Effective and Faster Development

High Market Penetration Access

Incredible Client Experience

Loyal Consumer Base

Secured Transactions

Strong Brand Value

Better Scalability
These are the beneficial sides of iOS app development. Also, here you will get brief details of the advantageous sides of businesses and organizations with iOS apps. iOS app functions smoothly in all sorts of iOS operating systems, which is ideal for the iOS app development process to take your business to the next level of success.
High-Security Standards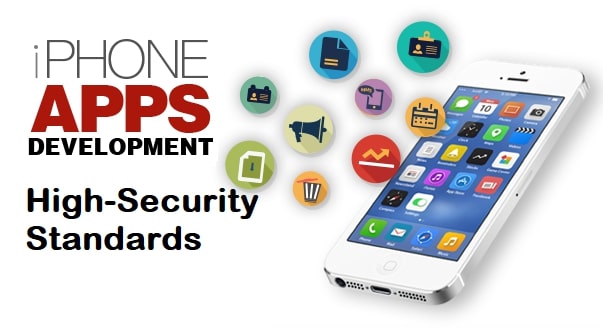 iOS apps come with higher-security standards. These types of mobile apps development processes require every business to maintain the standard of Apple's App Store. Security is essential for every business owner to uphold data privacy and user identity. iOS platform provides the best protection ever from any potential external security threats like malware, virus, hacking, phishing, and so on. Numerous iPhone apps are available in the Apple App Store, and the apps are highly secured for in-app purchases and app-based transactions.
Additionally, Apple provides the high-end security layer to the organizations or companies, including the encryption of a data breach, data duplication, or theft for the enterprises. Entirely, you will get the highest level of security from iOS apps which are tough to find. Moreover, the iOS apps development platform also offers the best security with a high-end security layer protection against potential security threats such as hacking, virus, malware, phishing, breaches, and many more. While making payments, iOS apps ensure secure online payments processes and transactions. Ultimately, iPhone apps come with high-level security options, which is one of the best advantages of iOS software development.
Best User Experience
All of the Apple store apps have come with flexible user interfaces and offer optimum customer satisfaction. The iOS app users are already accustomed to and satisfied because of the synchronized environment of the Apple device. It makes it accessible for enterprises to boost their sales with several advancements, including the brand awareness of user preference. However, the user satisfaction of iOS apps can not be ignored due to the benefits of this platform. These types of applications come with a robust combination of hardware and software, which provides comprehensive customer support with maintenance throughout the app lifecycle. Users can also enjoy the flawless performance of almost every iOS app that is available in the Apple play store.
High-Quality Standards
iOS app development requires high-quality standards. If you are developing an iOS app for your business, it lingers unfinished until the apps are built-in to pass the high-quality standards of Apple's Play Store and before the deployment process. The higher-quality standard of an iOS app ensures that the end-users will get a flawless performance and marvelous user experience. The user's trust and goodwill in Apple's legacy also allow the enterprises helps to earn enormous and loyal consumer support for iOS apps. Compared with other mobile app development platforms, iPhone users always have the same scintillating UX across all devices. Ultimately, you will get the optimal user experience with the standards of iPhone apps hardware and flawless software functions. Compared with other platforms, iOS always functions smoothly on all the devices, which attracts more people to use iOS applications.
Cost-Effective and Faster Development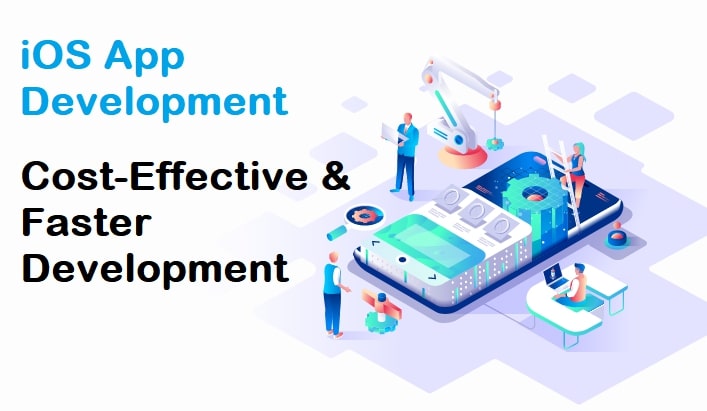 The building process of iOS apps is inexpensive to develop. iOS apps development is faster and more accessible because of Apple's powerful programming language. Objective-C and Swift are the best programming languages to use, which take 30-40% less time for building iOS apps efficiently. These programming languages for iOS apps are excellent with coded in faster and access codes, which results in quicker and cost-effective iOS app development. Moreover, compared with other platforms like the android app development cycle, iOS requires nearly 28% less time than Android apps of the equivalent specifications. For ensuring the best UX and UI, android apps need to be tested across at least 20 devices with varying resolutions, screen sizes, and OS versions. But the iOS apps comfortably match themselves conveniently with all the iOS operating systems. iOS applications development for businesses also ensures customer loyalty by providing guaranteed market visibility and profitability. At the same time, iPhone apps require low Mobile app development services time with fewer production costs and affordable maintenance, which is preferable and beneficial for businesses. Furthermore, the businesses also can secure a prominent place in the competitive app market with the piggyback on Apple's legacy.
High Market Penetration Access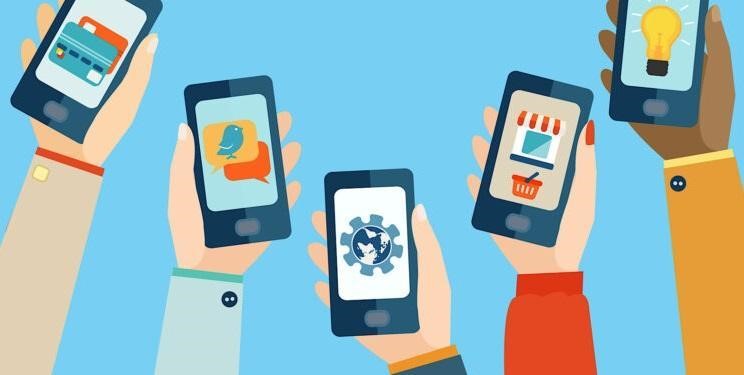 Every business can have a better customer experience with iOS apps because of their high market access. Apple has a large fan base in the international market, especially in US and UK. iPhone apps help to spread business wings to the market penetration and can be a winning proposition. As per Apple's legacy and quality of iOS apps development, these are well-established enough to guarantee success for companies and businesses. Compared with other platforms like Android, the iOS apps are outstanding for generating revenue. There is great competition in the Android app market, which is highly uncertain if the app will make sufficient revenue to recover the initial investment. Though there is also competition in the iOS app market, there is a high presence to generate convenient revenue to become successful.
Incredible Client Experience
iOS apps are convenient to use and provide the best experience to consumers. Providing a superior user experience to the users is an essential part of business strategy. However, Apple offers a convenient hardware system, which helps the software engineers to create flawless software with excellent customer support. Several iOS apps are available in the Apple App Store, and these apps work seamlessly on an iPhone to promote an incredible client experience. The advent of technology and high-quality tech innovations plays a crucial role in the success of every business. Technological advancement also helps businesses and organizations to extend their services by choosing the best iOS app development company to facilitate their operations. Additionally, iOS apps provide the best user experience to attract more potential clients to the business and organization.
Loyal Consumer Base
Having an app to a business means it ensures a loyal customer base to the company regarding the services and performances. You can attract customers to your business by providing the best performance of consumer services, which helps to achieve customer loyalty. Every organization and company strive to achieve potential customer for expanding their business spontaneously. However, the quality and performance of the iOS apps are commendable, which makes this brand convenient with a well-established community of loyal consumers. Most android apps users are satisfied using iOS apps and get the best experience ever by using iOS apps. The iOS platform comes with impressive execution and great experience associated with the iPhone apps. Also, it allows the enterprises to have an accessible time collecting extensive loyal customer support.
Secured Transactions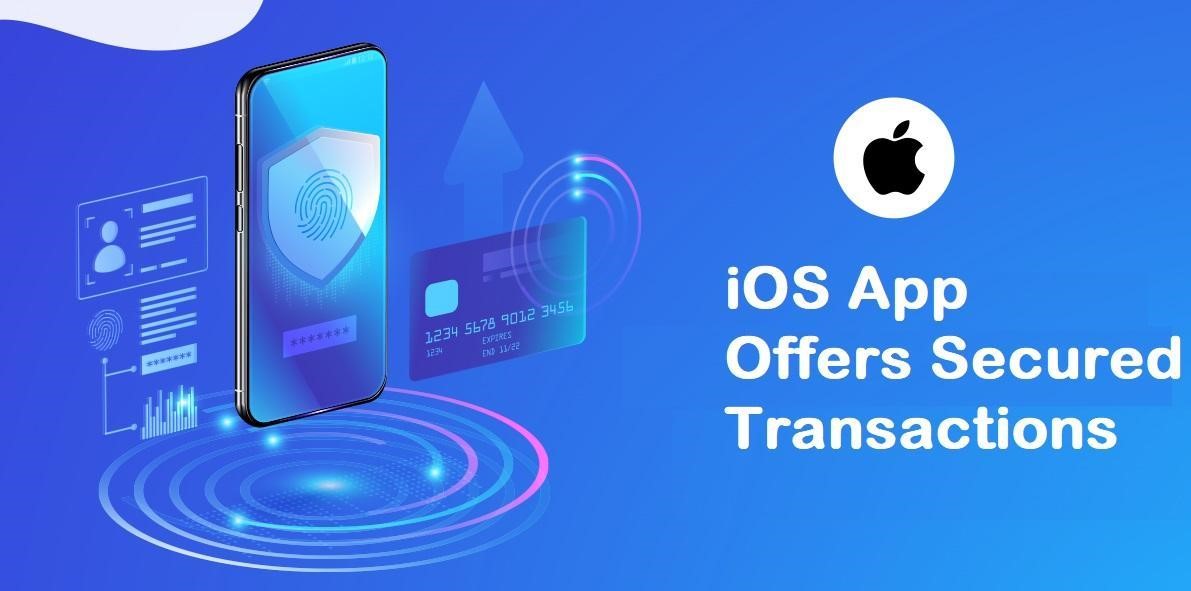 iOS apps provide the best security for online transactions through the apps on the platform. You can securely use any sort of payments method and online transactions by using this platform. iOS apps are built-in with ultra-safe and secured features, which protect the operating system from threats like hacking, phishing, and many more. It is the main reason iOS can confidently offer a secure and safe environment for doing online transactions with the apps. Moreover, all the iOS apps that are available in the Apple store come with advanced and protected features, which work as the safeguard of the operating system and provide protection against threats like hacking and phishing. Regarding all these safety features, the Apple apps give the best performance. Also, ensure that all the transactions with the iOS apps are entirely encrypted to use comfortably.
Strong Brand Value
iOS mobile apps help to create a strong brand value for a company efficiently. Apple is a renowned brand, and when it comes to trust, that is needless to say that anything related to this brand. As a trusted brand, iOS apps users always feel secure while using iPhone apps. All the iOS apps that are available in the Apple apps store are thoroughly tested by Apple. Because of this users, feel safe and stay aware of the best security option with iOS apps. Ultimately, the safety issues and performance of an iOS app will ensure the best brand value for your business. The strong brand value means it becomes more convenient to establish a business successfully.
Better Scalability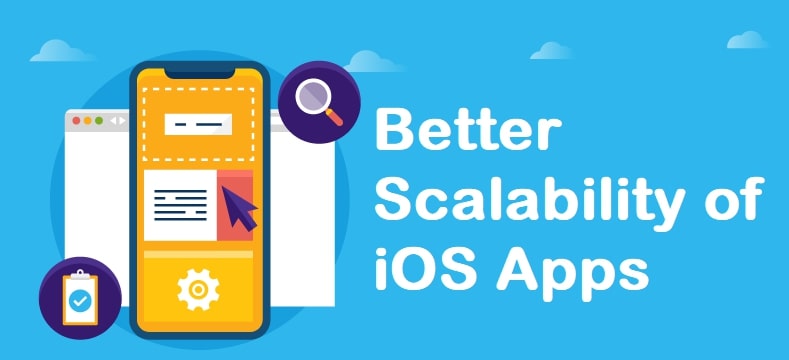 Scalability is essential to ensure the establishment and growth of the business. It is a crucial factor of business products and services, where mobile apps are the accessible way to do that. With customized mobile apps, you can build better scalability for products or services by ensuring profits for your business. Ultimately, by using iOS mobile apps, you will get the best experience with outstanding performance. It will also help to grow a business gradually because in every business scalability plays a vital role in every organization. Developing apps by using the iOS platform will ensure the high performance, safety, and security of a company and organization.
Final Note
These are all the beneficial sides of iOS app development for businesses and organizations. To summarize the benefits of iOS apps, the adoption of the iOS platform to the business indicates you are doing the most useful app development process with high-performance and secured apps. These types of apps ensure the best productivity and efficiency of business processes to establish the business successfully. If you want to bring innovation to your business with the accelerating economy, iOS app development is preferable. These types of apps are reliable and provide the best performance ever. If you are looking at iOS app development, We "REXO IT" can provide you with the iOS app development service as per the needs of both customers and employees. With iOS apps, both businesses and consumers can enjoy improved communication and collaboration. Our Professional iOS developers are enthusiasts who can provide you with the best iPhone app development service to boost your sales and take your business to the next level.