In research, It is seen that 90% of the time people spend on mobile. People are downloading different types of mobile apps and it has reached 310 billion globally. Among all these apps, hybrid apps are one of the most popular ones. Hybrid mobile apps are apps that are installed like other apps. it gains popularity in a short time of lower cost, short time mobile app development, and ability to perform on various platforms.
In this article, you will get to know about hybrid app development so that you can easily decide if it is your right choice or not. We will give you an overview of the hybrid app, its benefits, costs, and other factors.
What is a Hybrid App?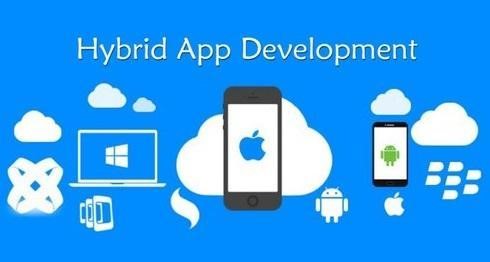 Hybrid apps are a combination of both native and web development or solutions. This software development is deployed using web Technologies like CSS, JavaScript, HTML. It can be displayed as the app is open or part of the app purchase funnel. It added an extra layer between the source and target platform. This type of app is not shown in the user browser but runs from a native mobile app that owns an embedded Browser and that is invisible to the user. Native shell helps to load your well-built website. It also creates the ability to submit on each platform for sale. It can give opportunities for developers who want to update their apps frequently. In hybrid mobile apps, there is no need to resubmit the version. it is possible to include native elements of user interfaces to access device features. It can also offer WebView.
Advantages of Hybrid Apps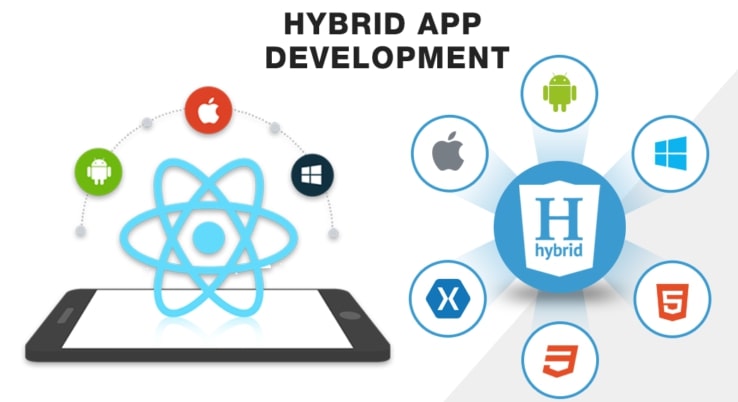 Avoid limitations of the Apple app store: When an app is deployed on the Apple app store it has to be submitted and waiting for validation. It depends on that year and also on the first submission. It takes like seven days. It brings many advantages for developers as it can be updated frequently.

Finding resources: There are many types of applications and most of them have iOS and Android versions. They are updated using programming languages like Swift, Java. Hybrid apps allow frequent programming language uses by web developers which makes hybrid apps easier.

Low-cost development: A hybrid mobile app costs less than a native app. As a developer writes only one set of code, other costs like maintenance, initial. And all this saving makes it more affordable than other apps.

Offline Availability: As hybrid apps have a native structure they can also work offline. Users can load the data and see it even if they can't access it.
The Disadvantage of Hybrid Apps
A coin has two sides and like this, every app has some advantages and disadvantages too. Hybrid apps also have some limitations that should be known by all before the mobile apps development process as they can affect your business. They are given below:
Limited User Experience: the hybrid app is one codebase that may bring a negative user experience. Customizing an app is difficult as it is platform-based.

Lower Performance: it is one of the weakest points of hybrid apps. It usually loads in a web view and it is difficult to reach a native performance.

Feature Availability: there are some features of hybrid apps that are not common and can not be found on some platforms. More than that, some native features of this do not exist.
Hybrid App Development Cost
It is difficult to tell the exact price of different types of mobile apps. You have to estimate the price depending on its features, design, factors, types, etc. But a hybrid app is less expensive than a native app. Let's discuss the price based on the types you may need. Such as:
Simple Hybrid Mobile App: It has few features and can be developed in a short time. It can cost you like $10000 Us dollars.

Medium Complex Hybrid Mobile App: It has a bit more complex features than a simple hybrid app and takes 2-3 months. A medium complex hybrid app can cost you $10000 to $50000.

Enterprise Hybrid Mobile App: This type of app takes more time as it has many features like 3-6 months with launch time. Enterprise apps can cost $50000 to $150000.

Game: this is the most complicated type of app that can be tough to create and customize. You can be charged more than $250000 to develop game apps. Its hourly rate is $50.
Key features
A hybrid app has many key features that make it unique. Key features of a hybrid app can help you to know the feature and decide how it can help you in your business and you can decide to go along with it or not. It has full device access with plugins and performs medium to high. For development, hybrid apps use programming languages like HTML, CSS, JavaScript. It also supports cross-platform which means it can be performed on iOS and Android devices. Hybrid apps bring the medium to high user experience with code reuse. Hybrid apps' other key feature is:
It support portability

It can help to manage different hardware and software by using plugins

Cost-effective

It takes less time to build
Conclusion
Developing a mobile app is a great way to remain in the competition of the new era of Technology. In this aspect, a hybrid app can be a smart choice especially if you want a highly performant game development or another app. It is a great option for you if you want to run a mobile app on a different operating system. It helps you to target multiple platforms and increase your brand promotion. It has an easier mobile apps development approach with cost-effectiveness. You can also use this when devices are offline. Hybrid apps do not need any advanced graphic design performance and give you the advantage of device capabilities. Easy to develop and download as they integrate native elements that make it more popular and demanded. It can push a business step forward which makes it the best choice for a business.